I'll try and make this one quick.
With the shift to more liberal translation in recent years in order to create more flowing dialogue and consistent character voices, there has been an onset of viewers misunderstanding certain choices that fansubbing groups choose to make. Those with a basic understanding of Japanese vocabulary and phrases might notice that what they hear doesn't match exactly with what they read, and thus assume that the translator or editor made a mistake when, in fact, it was completely intentional. It's easiest to understand with examples, and I didn't prepare any beforehand, so let's see what I can pull out of our recent releases and such.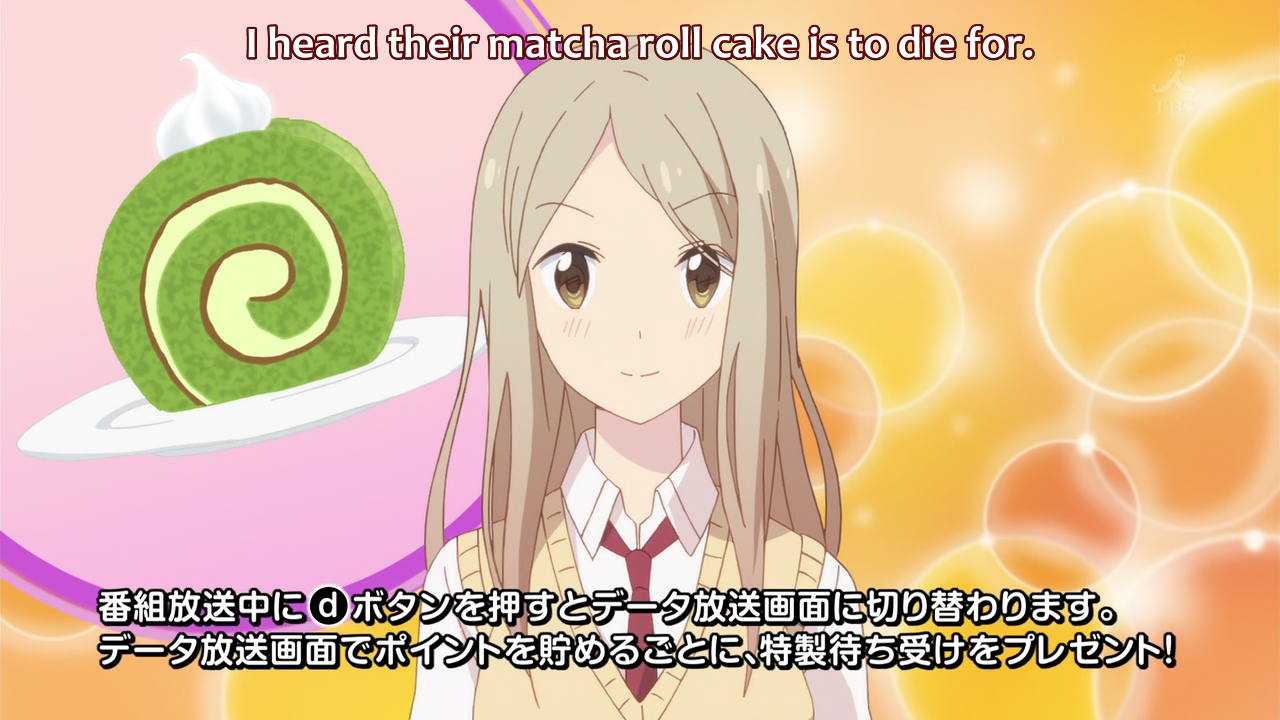 This one is just a control image. She says that the [shop's] matcha cake is delicious, and we added flavor by using a common expression, "to die for". Nobody should have any issues with this.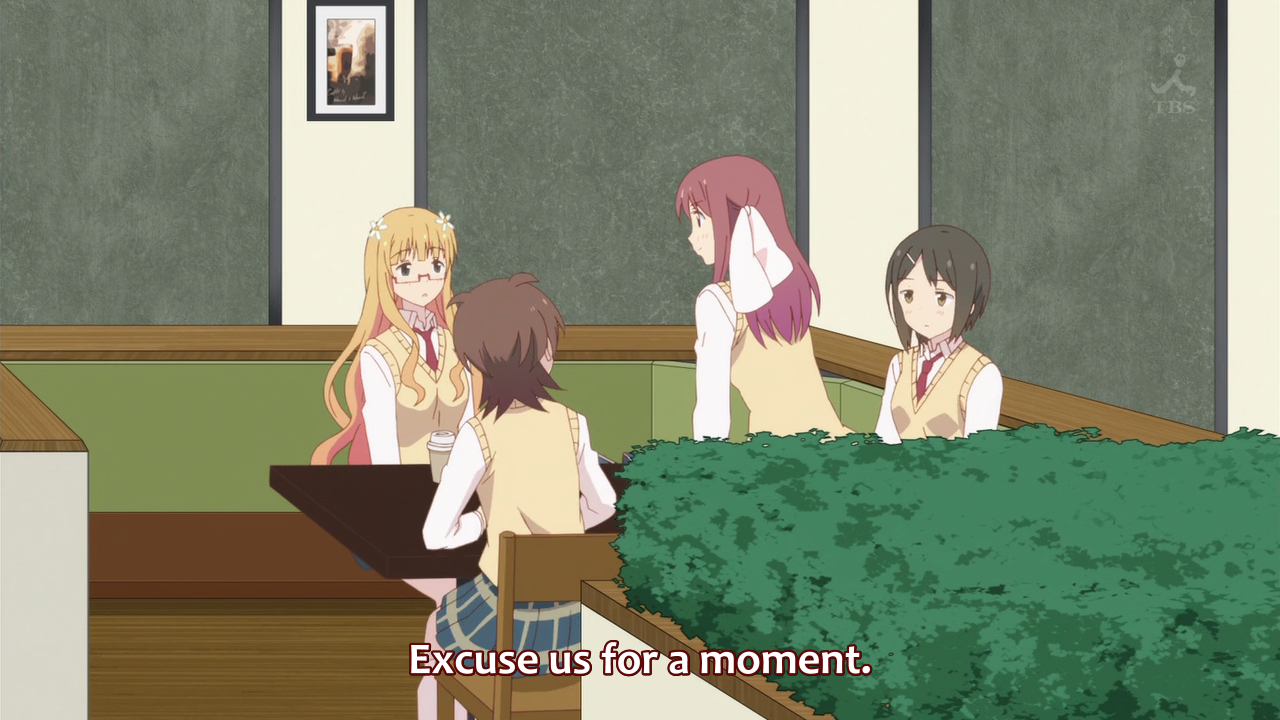 At least one person complained about this one. Literally: "hold on, strategy meeting". To be honest, I really wanted to include that phrase, but I believed that this conveyed enough information as-is. You'll note that Japanese often omits subjects and even sometimes verbs when they're obvious from context, but those usually need to be added back in for a translation.
This is an example of a very hard to translate conversation. Basically, the "joke" or misunderstanding or what-have-you comes from ambiguity in what Haruka says. She says "shibireru", which from context would usually mean that her legs fell asleep due to lack of circulation and are feeling all tingly. She then specifies the… indirect object (?) as Yuu causing that feeling, but in a more "being so close to you has given me a feeling so complicated" way. In other words, it's a good thing. Here's Kaylith's for comparison:
The original idea was "Only to me", by the way.
Doki: "My legs are falling asleep…" // "Should I get off?" // "No."
CR: "My legs are tingling…" // "Huh? Should I get off?" // "No, you're making me tingle."
LazyLily: "I'm getting numb…" // "Should I get off?" // "I meant my mind."
And now for the complete opposite end of the spectrum.
The metaphor is thus: "donut" for uke/catcher/takes-it-in-the-ass; "banana" for seme/pitcher/the-D; "Krispy Kreme glaze" for sasoi uke/receiver who appears innocent but is actually inviting others to fuck him (forgive my lack of delicacy on this one, it's hard to describe). This was an extremely liberal and creative translation on FFF's part, and it caused quite a stir when it was airing a few seasons ago. First of all, the Krispy Kreme brand is apparently not as well known outside of America, so a certain demographic was confused. Second, it was fairly clear that that's not what she was exactly saying, so people jumped on it with their [mostly nonexistant] Japanese skillz and called foul play (translation errors) on them. But if you think about it for a second, you'll quickly realize that dialogue like this doesn't come out of nowhere. The subbers followed rhyme and reason, and were consistent in her characterization. I don't know what CR/Commie/WhyNot had for those parts, but I'm guessing it was a lot more conservative and simple. But so long as the translator understood and made an effort to truly translate the meaning and character voice, it's not a mistake. It all comes down to preference in the end.
So where does that leave us? My original point was about mistaking inaccuracy for nuance, and attempting to convince others of non-existant errors. Translation is both a science and an art, and as such proper and competent translations will never be done by a machine until we've achieved perfect AI. It's up to each person involved (whether viewer or subber) to interpret what is going on, and to determine the true meaning behind the characters' words and actions. In fact, even if you're competent in the original language, you can sometimes understand a deeper level of the interactions going on by reading someone else's interpretation of it… and that is the reason I still watch subs.