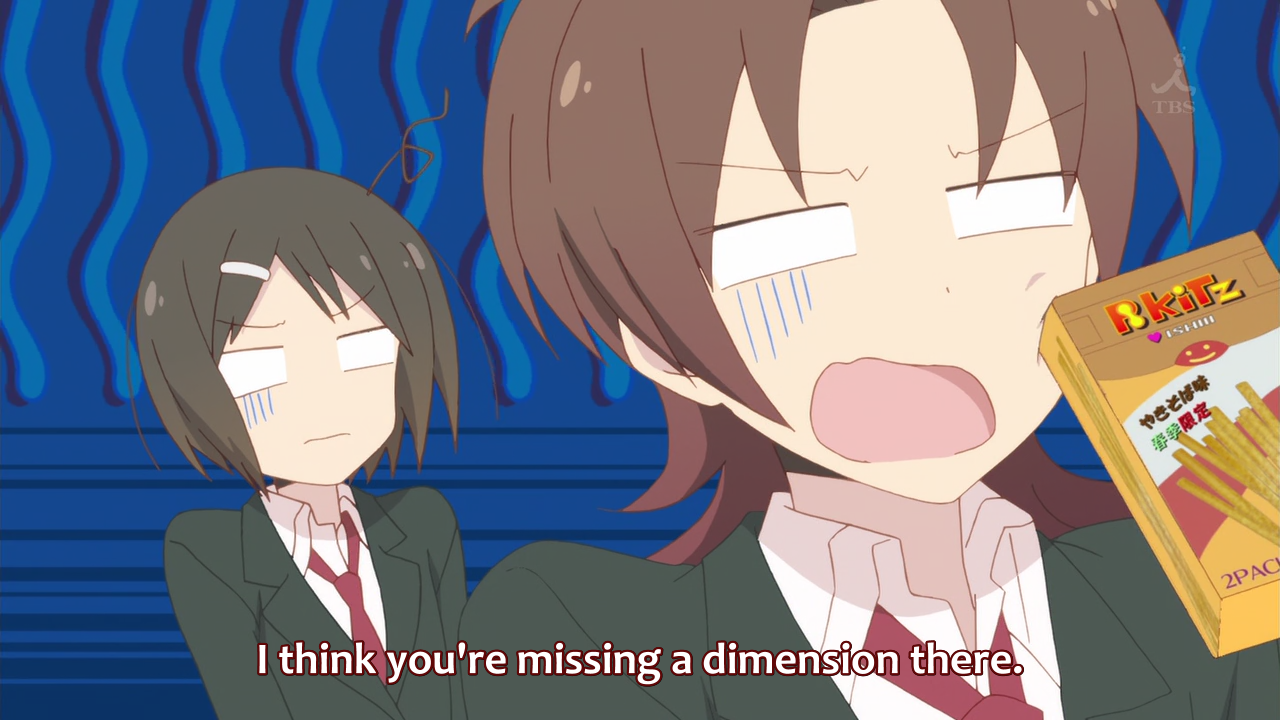 First: calm down, it's just a joke in an anime about lesbians.
Ok, so I can see why this was hard to understand. It requires context from the entire second half of the episode, and there were many distracting parts involving very lewd high school girls and something strange happening with the laws of physics. So lets start from the beginning.
Haruka and Yuu are shown coming back from the convenience store during their lunch break, and are talking about strange flavors of Pokitz (like salad). That part is important. Meanwhile, we see Yuzu and them start talking about wanting to eat "yakisoba" for lunch. They introduce the fact that you could misunderstand what exactly she wants by comparing yakisoba bread and "cup" (or instant) yakisoba. To make the latter, you need to add hot water and wait for 2-5 minutes for it to cook and warm up, which is why Kotone keeps bothering Shizuku about that. At this point, you should already have in mind that there are several ways to interpret "yakisoba", and we have been shown two of them. The joke concludes with Yuu having bought yakisoba flavored Pokitz, a far cry from anything Yuzu was expecting.
もうカップとか言う次元じゃなかった
mou kappu toka iu jigen ja nakatta
もう means "already" in this context. カップとか言う refers to "anything that could possibly be called a cup". 次元 means "dimension/perspective". じゃなかった is the past negative noun classifier. Literally, "It is already not the dimension from which you can call that a cup."
This can be interpreted in several ways. First, if you take it from an abstract point of view, you can realize that it goes back to the entire talk about what yakisoba actually is. Normally it is a food you eat from a plate or bowl, but due to convenience and increased mass-production of goods, it was put into a "cup" form (this includes every type that you pour hot water into). This was taken one step further from the original to make the so-called "yakisoba bread", which is even more convenient (to say nothing of the flavor). Taken one step even further (one more dimension outwards, so to speak), they isolated the yakisoba flavor and turned it into a snack food. Taken from an absurdist /literal perspective, Yuzu and Kaede were expecting something round, either in the form of a cup or a bread roll. Yuu presents them with a box, which is flat. There is an inherent irony and humor in how far gone the Pokitz is from the original. And yes, I know that going from a cylinder shape to a rectangular prism isn't literally losing a dimension. It requires some flexibility of mind to understand.
Sorry about the 4-5 typos we made, the first episode of new anime usually has problems just from being something new and also the excitement that comes with doing something fresh. #evetaku, it was TBS's fault for moving the advertisement to the bottom right this season. To the guy who can't understand v01.5: whatever man.