(If you're a CR rep, it's nothing personal)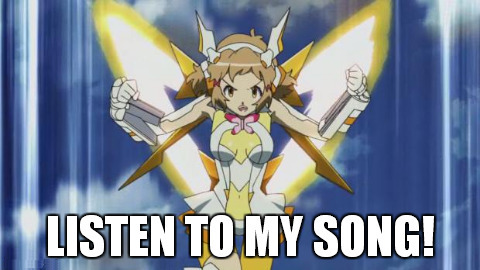 What is a fansub? Is it a literal translation of the original Japanese, made in order to bring you as close to the original experience as possible? Is it a chance to show off how fancy you can make karaoke effects? Show off your English writing skills (read: thesaurus)? Maybe even try to expand your e-peen and get net popularity? Just what is it?
EDIT: JESUS CHRIST HORRIBLESUBS DO NOT SUB. THEY RIP FROM CRUNCHY.
Back in the day (even before my time), fansubbing was the only way for English speaking fans of anime to 1) Understand anything, and 2) Even get anime in the first place. There was no editing, no typesetting, just pure, plain and simple translation. I've even experienced this myself with a VHS of Angel's Egg and a transcript of the translation on a piece of paper in my hands.  In this long reaching era, many of what we call "generitranslations" were born. People were forced to learn strange words and a stranger culture in order to fully understand their shows. The few anime that were brought over and dubbed often underwent localization, which completely turned the original writers and actors intentions on their head and spit out a completely different product (most infamously, Cardcaptors and Pokemon). At the time, I was only getting the dubbing end product, but fortunately I was young and foolish enough to enjoy those bastardizations enough to get more into this hobby.
Time went on, and it became easier to supply and get anime. Programs like limewire and bittorrent were used, and adding that to direct downloads and irc, anime became far more widespread [on the Internet]. At some point, streaming was still a good option considering the lack of harddisk space most people suffered from and the fact that everything was still standard quality. Back then, certain streaming sites (you know who I'm talking about) were actually a really good resource for fans.
But then standards started to change. Editing became more than just fixing typos and grammatical mistakes—it became a process to make a more natural, enjoyable script. Certain liberties were taken in order to keep tone and meaning over having a one-to-one translation. Although the debate over keeping honorifics in and what to do with certain "untranslatable" words still rages on, most subs have resolved to aim for a more natural flow and strive to improve the anime viewing experience.  With the birth of Aegisub (June 2005), I can only assume that subbing in general got far easier for everyone involved.  Timing and typesetting improved across the board, and kfx probably got easier to implement.  Behold the "golden age" of fansubs.
A few years later in 2009, Crunchyroll got officially endorsed to start streaming anime legally, and decided to remove all of its uploaded fansubs.  Currently, their in-house translators get a script in advance to work on for their simulcasts, but that appears not to have been the case at the beginning.  I still remember trying to watch a HorribleSubs rip of Mitsudomoe (late 2010) with several lines having mistranslations, or simply "?" in place of a line. For those of you confused, HS rips from all of the simulcast sites and uploads episodes for download.  Since I only have access to those releases, I can't be absolutely certain, but I think that either only occasionally or very recently they began to do any amount of typesetting, with CR still lagging behind in that department.  Also, due to legal issues CR isn't allowed to translate any songs unless they get special permission.  I believe I mentioned in a previous post my opinions on the importance of songs, so I'll leave it at that.
At the beginning, this wasn't a huge issue.  It was still understood that speed subs and simulcasts would generally have awful quality, and you'd have to wait a few days to get good subs.  Groups have vastly improved in quality in the last few years alongside the rising subbing standards, and although CR has lagged a bit, their translation quality appears to finally be up to par.
So why don't you just use those simulcast rips if the translation is fine?  After all, that's the most important part… right?
No, it's not.  The efforts of a subbing team you can talk to, the coordination of people across the globe, the creativity and quality that go into making a single song, hours of typesetting work to perfectly blend in a sign that lasts for no more than a second, editing that brings out the flavor of each and every character, and of course the pains that go into making a high quality-low filesize encode are the most important part.  In other words, it's the love that goes into it.  I'm not every single fansubber out there, but I don't think you can continue this hobby if you don't love what you do.  It's the blood, sweat, and tears that go into every release that makes an episode enjoyable.  A good fansub will make an anime much better than it originally was, and that's something you can't find in official subs.
Unfortunately, too many people focus on just a single part of anime.  If you get that first release, you're missing out on all of the other parts of a good episode that can only be brought out by fansubbers.  Too many groups these days will decide on a new season's anime to sub only to back out once they hear of a simulcast.  They know that most viewers will just go for the fastest release and not wait for the best quality.  Other groups will abandon their translator and go for a CR edit, which will hopefully be better than nothing considering the base quality these days, but if you believe what Dark_Sage has to say then most groups just want to get their names out there with minimal effort.  We at Mezashite have only been subbing for four seasons now, and already 2 out of our 5 shows have been simulcasted at the last minute, seemingly in order to scare off fansubbing groups.  And yet, we stick to our original translation, because there is flavor that you can only bring out with a clear mind, uninfluenced by another's opinions.  It's hard to put time and effort into something that will be making less influence than it should, and I commend Etoce for fighting through that every week.  We're not the only group that does this, and I applaud the others such as UTW for doing the same.
Every season, more and more shows are getting simulcasted, with groups who want to do original translations fighting over the few that remain.  On the other hand, there remain series who don't even get the honor of a CR edit (although looking at fansubdb it seems most of those have finally filled out).  So what am I trying to say here?  I just want you to consider waiting those extra six hours to grab a respectable release.  Sure, you might miss the first thread or two discussing the show, but those thoughts and opinions aren't going anywhere, and neither are you.  For the same reason I hate spoilers, don't lower yourself to the level of an unsatisfactory experience.  Respect yourself, and do yourself a favor by getting the best quality release you can.  You are an anime fan, after all.
As one final note, this post was drafted before the season even began.  Although even we were daunted by going up against a simulcasted show again, in the end we decided that Kiniro deserved it.  I, at least, love anime, and I want to see the shows that I watch get the best treatment they can.
EDIT: This post is for other subbers as much as it's for fans.  I know it's hard, but don't get discouraged by simple download numbers. As you can see, there will always be those waiting for you until the very end. Do it not just for yourself, but for them as well.